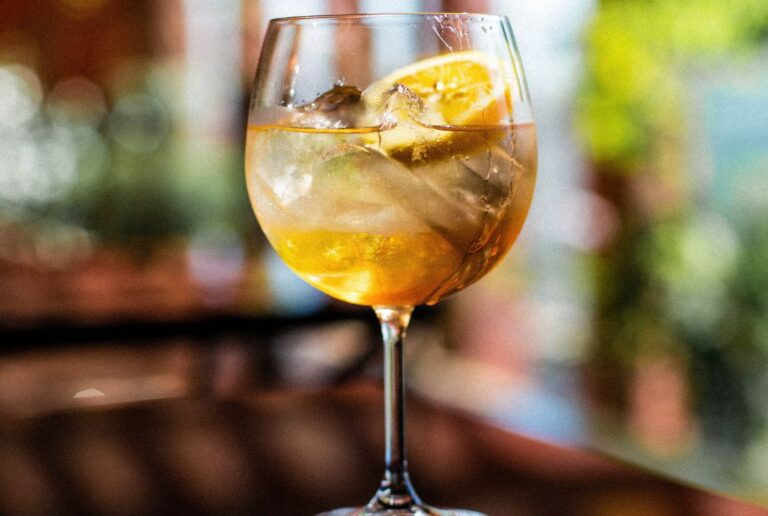 the TALE BEHIND THE COCKTAIL
As the sun starts shining brighter and the days get longer, we invite you to enjoy a fancy alternative to the classic Aperol Spritz, perfect for rooftop and terrace settings or any summertime celebration : The
Marbella
. 
The Marbella is an assemblage of some really fine booze: Rompe Mar pisco, dry rosé wine, green chartreuse, rose liqueur, seltzer water, and a lemon slice that echoes with our pisco´s citric notes. The Marbella's draws its unique flavour profile from the green chartreuse, a complex herbal liqueur made by Carthusian monks in the Chartreuse Mountains of France. For the little side story, the monks have been making the liqueur uninterruptedly since 1737 by religiously (pun intended) following an old recipe contained in a manuscript given to them by François Annibal d'Estrées in 1605. The chartreuse thus infuses the Marbella with not only its rich herbal notes but also a great deal of history.
You may wonder how a cocktail mixing pisco, chartreuse, rose liqueur and dry rosé wine, to name just a few of its ingredients, came about being. Let's just say that our team members worked hard and long on a hot summer day to find the most creative way to refresh themselves before stumbling upon the complex recipe of the Marbella. After (too) many drinks, we landed on this masterpiece that perfectly encapsulates the freshness and joie de vivre of the season. 
We take pride in using only the finest and most fresh ingredients, and in balancing them to perfection. Marbella is no exception to the rule. The combination of Rompe Mar pisco with extra dry rosé wine creates a perfect balance of sweetness and acidity, while the green chartreuse and rose liqueur add complexity and depth to the drink. This refreshing cocktail is a true delight, whether sipping it on a warm afternoon or toasting it for a special occasion. Indulge in Marbella this summer, and experience the unique and delicious flavours that it offers. In case you want to impress your guests at your next summer gathering, we're dropping the recipe here.
60 ml of Rompe Mar Pisco
60 ml of dry rosé
30 ml of green Chartreuse
Minearl water
A lemon slice and zest
Ice
 Fill a balloon glass with ice. Add the rosé, chartreuse and rose liqueur. Top with mineral water. Add the lemon slice and garnish with the zest.